What is driving the location independent business scene in 2018? An increasing number of LI workers, primarily. Intuit released a report predicting, among other things, that 40% of the American workforce will be making their living independently by 2020. That's an impressive statistic.
No surprise to any of us, the location independent community happens to be quite an entrepreneurial bunch. New business ideas, concepts, and trends are constantly shaping and re-shaping the way remote work functions. Let's take a look at five top location independent business trends in 2018.
E-Commerce
E-commerce is, in many ways, the driving force of location independence. The term refers to the practice of online selling. As a higher percentage of shopping is conducted online, the marketplace is able to accommodate rising numbers of sellers.
Sellers are taking advantage of the fact that just about anything can be sold online these days – from physical products to services.
Tools such as Shopify and Ecwid make setting up an online store a breeze. It can take some time to perform well on Google searches. But by building an SEO-friendly site that caters to a specific niche or need, and a bit of marketing savvy, the future is ripe for e-commerce.
Pick a product or niche. It can be literally anything. Do some market research to find a sellable product. Use your personality to stand out from other sellers. Even if it's a relatively boring product or market, adding some spunk to it can draw big business. Check out this example, where our friend Matt Giovanisci brilliantly markets pool care products.
These businesses are easy to scale and, when you're ready to move on, easy to sell (empireflippers.com can help will this).
Becoming a virtual assistant
For those working towards creating a location independent business but not sure where to start, being a virtual assistant is a place to get your feet wet. A virtual assistant contracts with other business owners to complete tasks and assignments that they simply don't have the time or don't want to do.
Virtual assistants have the opportunity to see inside other businesses, observing how they operate and grow. There is also the benefit of potential growth with a company as a VA makes him/herself an invaluable member of the team.
Check out Taskerly for a great example of a successful VA business and effective website.
Typical VA duties include emailing, scheduling and schedule management, outreach, web and social media updates, and other standard office tasks. Sound doable? The Location Indie forums are a great place to test ideas and find 'guinea pigs' to help build a portfolio and get some references.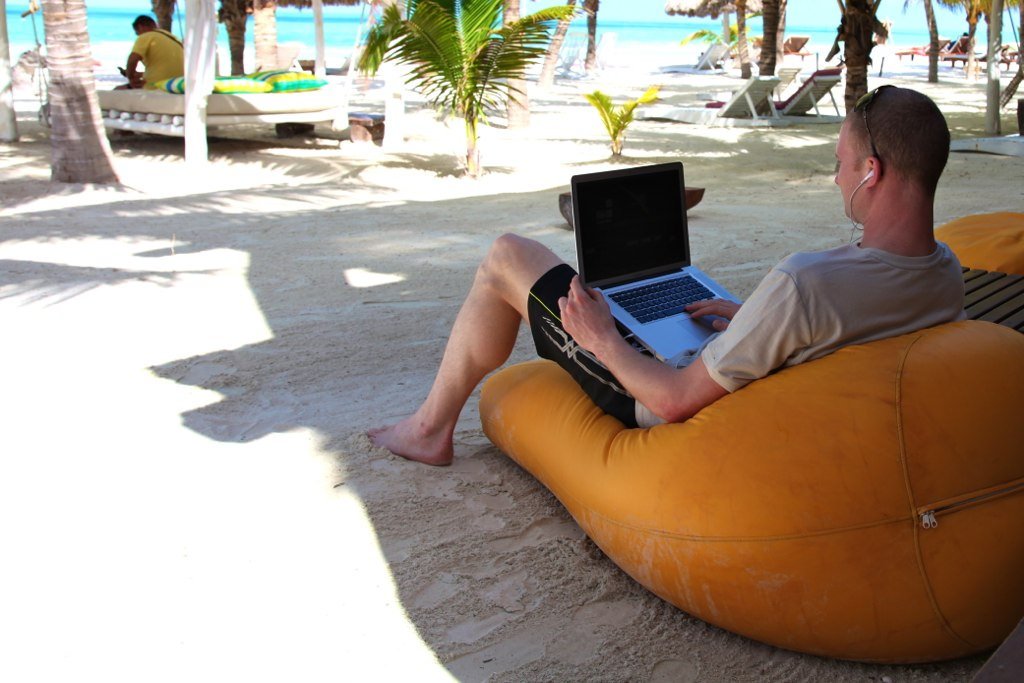 Amazon FBA
Fulfilled by Amazon, or FBA just might be the hottest LI trend right now. Basically, an FBA seller buys products from websites or bulk stores and then sells them on Amazon. The goal is to find deals and buy low, then sell for a profit on Amazon.
Inside the LI forums, there is much chatter and advice on starting and scaling an Amazon FBA business. As far as scale-ability, this type of location independent business is absolutely perfect. Successful FBA sellers often gross high incomes that are mostly passive – meaning the day-to-day workload on their end is very minimal.
Larger-scale sellers take advantage of a variety of services that include storage, packing and shipping, and inventory management via outsourced service providers and often never see or touch the products they are selling. A full list of these services is available here.
Live Online Training
This concept refers to teaching your skillset live to an online audience. Be it a webinar, a course,
These online training sessions can be paid or free for users. If setting up a paid training, instructors will typically cover a vast amount of knowledge and get very in-depth on a topic, seeking to teach attendees everything they need to know to be successful.
Free online trainings are often used for marketing. Maybe the goal is to gather email addresses. Perhaps you're hoping to raise awareness of an upcoming product, event, or service and then upsell the attendees at the end of the training. Either way, free trainings are a great way to attract attention and increase visibility.
Training via a slideshow presentation. The skill must be actionable and the viewers should be able to replicate the knowledge to make more money than they paid for the training (if a paid training).
Live trainings are a great way to separate yourself from the competition. If your product or service is in a competitive market, a free training can really help you stand out.
Running Facebook ads
If there is one skill set that is easily learned and easily sellable, it's running Facebook ads. The truth is, many business owners have no idea how to effectively run a Facebook ad campaign. They would love someone to do it for them and often are willing to pay big bucks for it.
Learning how to optimize Facebook ads is very simple. There are a number of services that teach how to run a successful campaign.
After a few successful ad campaigns, you can begin guaranteeing a certain return to future clients and have the proof to back it up.
Facebook ad campaigns don't take much time to set up, in relation to how much money you can charge for running them. With a few hours of time, hundreds (even thousands) of dollars can be made.
It's safe to say that the digital nomad scene is gaining traction around the world. Sure, there are millions if not billions of people in the world who would love to live this lifestyle. There are many barriers that keep most people location DE-pendent, some that are circumstantial and some that aren't.
Of self-inflicted barriers among otherwise able travelers, one of the biggest things that hold people back is determination and dedication. The trends discussed here can be very lucrative – but it's not going to happen overnight. Find your niche, keep your head down, and work your way towards your goals.
No matter which path you take towards your location independent business, networking is going to be your best friend. There are many resources available to help, including the Location Indie podcast and community. In this community, we're all in it together!
Photo Credits: Steven Zwerink, Digital Nomad
Want to know how to work from anywhere?
Do you dream of being able to work from anywhere in the world, but aren't sure how? Sign up below and we'll send you our free guide, "Behind the Laptop: 7 Ways to Earn Money While Traveling the World." You'll also get our value-packed newsletter with more inspiration for making your dreams of location independence come true!