For some people, part-time remote work is all about having a more flexible schedule, or they simply want to spend a few months of the year somewhere warmer. Maybe as a new digital nomad, you're looking to get your feet wet and see what the job market has to offer or perhaps you're looking to hop around from country to country while working.
Whatever reason underlies your desire to work part-time, there are tons of remote work opportunities out there. Before you start your remote job search, it's important to understand what exactly remote work entails. Here, we'll help you understand what remote work actually means and show you some companies that hire specifically for part-time remote workers.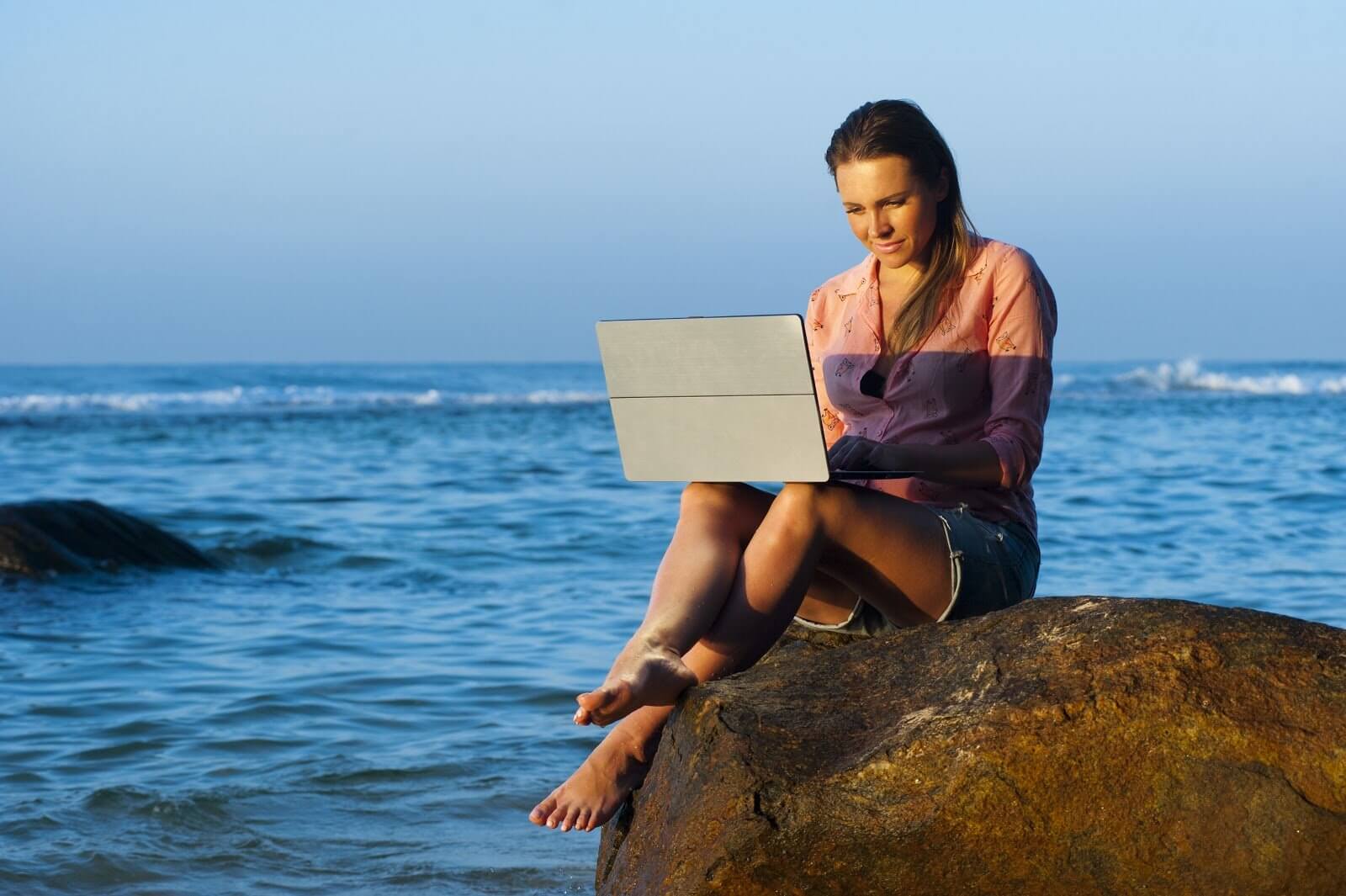 Understanding Remote Location Jobs
You've likely heard about remote jobs on the news or from social media where influencers post amazing stories of how they quit the rat race and started working from home or on the road. While there are some realities when it comes to working from home, these remote jobs offer incredible freedom and flexibility to pursue your passions and see the world.
When people talk about remote work, they largely mean jobs that allow employees to work from home or any other place they see fit. However, there is a slight difference between some of these remote or telecommuting positions.
Telecommuting Jobs
Telecommuting or telework jobs generally mean that while the position is largely home-based, there may be some on-site work required of the employee. This can range from coming into the office once per week or simply attending a work conference every quarter or once per year. The level of on-site work will depend largely on the employer so it's important to have a discussion with the hiring manager when settling on the final terms of your remote work or telecommuting contract.
Remote Work
The term remote work generally means that the employee lives and works outside of the area where the company's headquarters or office spaces are located. These work-from-home jobs don't necessarily mean that you have to work from your home. While some companies that hire remote workers such as Apple or American Express require a specific setup for remote employees, many remote employers let their hires work from anywhere including coffee shops and coworking spaces.
Since many of these terms are used interchangeably, it's useful to use a variety of terms when looking for location independent jobs. Make sure to look for both telecommute and remote jobs when conducting your job search to make sure you see all of the opportunities out there. Read on to find a smattering of companies that hire remote workers for part-time jobs.

Companies That Hire For Remote Part Time Jobs
In the past, we've written about companies that hire remote workers so you can build your career and travel the world at the same time.
Here, we'll show you some companies that hire for part-time remote employees so you can choose how much you want to work or if you want to work for several clients while adventuring across the globe. Since many of these are just part time positions, you may not receive a comprehensive benefits package or will need to look into health insurance options for digital nomads if you make these positions the base of your location independent lifestyle.
Becoming an aupair is a great way to travel and work abroad, but if you prefer to work on the coordination of these travel experiences, Great AuPair is an excellent option. Great AuPair is the world's largest online nanny services agency and offers remote part-time positions for company ambassadors, services managers and local childcare coordinators. Many positions are located in Europe, but you can also find offerings in Canada and North America if you're so inclined. You'll help people like you find remote positions and enable them to integrate into the local community, take care of a host family's children and learn about new cultures and people.
If you have a teaching credential and enjoy working with children, K12 is a company that offers both location based and virtual teaching positions from kindergarten through high school. Virtual teaching positions cover subjects from science and math to foreign language and most virtual class sizes are kept to a maximum of 20. You'll be responsible for teaching a minimum of 6 hours per week, grading all student coursework and creating your own lesson plans. Since these are part-time jobs, you can work them in conjunction with other remote jobs, as there are no restrictions on additional jobs in the employment contract.
This company is the world's largest employer of professional interpreters and offers remote opportunities for interpreters that are both video and phone based. With interpretation services for over 240 languages, you're sure to find a niche that will fit your language skills whether you're fluent in English, German, Somali or another more obscure language. They also work with deaf and hard-of-hearing clients so if you are an expert in sign language, this could be a great opportunity for part-time remote employment. Their job listings are mainly in industries such as healthcare, government and business and the company also offers resources and career advice for part-time employees as well as full-time positions.
Alere is a global medical devices company that produces products for the healthcare industry. Alere has a massive presence across the globe and maintains offices in various United States locations including California and Florida as well as internationally in Canada, Europe, Africa and the Middle East. Many of their positions offer a telecommute option so make sure to ask the recruiter if this in an option for your desired position. Some past remote part-time job titles included offerings for senior marketing managers, senior software developers, analysts and account executives.
If you have a background in health or psychology, you can join the emerging telemedicine market with VocoVision, a website that makes it easy to find remote part-time jobs in industries such as nursing and psychiatry. Their teletherapy job types include things such as speech therapy, tele sign language and school psychology positions. Some of these jobs will require you to come on site occasionally, while others allow 100% work-from-home opportunities so make sure to read the fine print when applying for positions.
Appen is an online marketing company that hires for work from home positions on a short-term project basis as well as for longer full-time jobs in the corporate sector. Most of Appen's part-time jobs are for social media evaluators and web search evaluators. Since these projects are usually short-term, you may need to work on several to piece together a bigger income and you'll also need to be flexible and open to constantly starting new projects for different clients. Appen offers these positions worldwide so you'll find several in different regions of Europe as well as the United States.
WorldWide 101 believes there is a better alternative to 'business as usual' and consists of a talented team of individuals who all work virtually from home. These remote part-time jobs are geared towards individuals with strong professional backgrounds in administration, marketing and project management. WorldWide 101 hires in many continents including Europe and the USA, but many of the positions depend largely on the preferred work time zone of the employer.
This company focuses on connecting remote workers with various employers looking for part-time workers that can work from home. Most remote positions are in customer-facing job categories such as customer service representatives and help desk support agents, but there are also some opportunities for consultants, data entry specialists and server administrators. The job search website offers support for employees from training and preparation for remote positions to salary negotiation services.
Internationally recognized as the leaders in test prep, Kaplan offers numerous remote and part-time positions ranging from higher and professional education to language learning services. To join the Kaplan team, you'll need to have at minimum a Bachelor's degree and some teaching experience. Kaplan also sometimes hires for part-time positions in operations and management as well as marketing, sales and customer service.

Start Working Remotely
Now that you have an idea of what remote work really means and know some companies that hire specifically for part-time remote employees, you can better conduct your job search. Becoming location independent has no one specific path to success. Some start out as entrepreneurs while others slowly ease into the lifestyle by piecing together one or two remote part-time jobs.
Whatever path you decide works for you, being location independent brings true freedom and the opportunity to live and work from wherever you want. For more information on the location independent lifestyle, join our community. You'll get 24/7 access to other digital nomads just like yourself and find exceptional resources for everything from finding part-time remote jobs to learning how to cope with the changes being location independent can bring about.
Want to know how to work from anywhere?
Do you dream of being able to work from anywhere in the world, but aren't sure how? Sign up below and we'll send you our free guide, "Behind the Laptop: 7 Ways to Earn Money While Traveling the World." You'll also get our value-packed newsletter with more inspiration for making your dreams of location independence come true!