One of the biggest issues digital nomads face is the topic of international health insurance. We're all going to catch a bug now and then, and it always seems to happen at the worst time.
When you've quit the cushy office gig and left behind all the comforts it offered, certain issues jump out at you. What to do if I get sick on the road?
The first thing to note: the health insurance issue should not keep you from traveling. Especially if you are in good health now. For many working to transition into a location independent lifestyle, the idea of leaving their job and forfeiting the health insurance is often the biggest deterring factor.
I'll admit, healthcare is one of the major gray areas in the digital nomad existence – especially for Americans. But there are affordable international health insurance options. In fact, it's possible to get international health insurance for slightly over $100 per month in many cases.
Why international health insurance?
Many of us aren't planning to be in a country long enough to be a resident and purchase health insurance. But we're gone too long to maintain our coverage back home. Health insurance for digital nomads is important, particularly for those of us that love trying new adventures and eating local cuisines. Any Americans out there know how much of a headache the healthcare system in the US can be. It's only more so if you're calling on your healthcare provider to help you out from the other side of the world.
Luckily, when it comes to international health insurance, there are two very strong options to consider: Cigna Global Insurance and Integra Global.
I applied for a quote from both, and you can see the results of my research below. But first, let's answer some common questions about international health insurance.
Can't I just buy Travel Insurance and call it good?
I love World Nomads Travel Insurance and have used it for multiple continent-hopping trips over the years.
I can't recommend it for longer than six months at a time, however. Travel insurance is just not built to be a person's sole health plan. The idea of travel insurance is to protect you from added risks that you aren't encountering back home.
It's basically meant to fill in the gap between Point A (home life before the trip) and Point B (home life after the trip.) Despite it being affordable for shorter trips, that changes severely when you're crossing borders regularly.
Digital nomads planning to be abroad for more than a few months at a time should not rely solely on travel insurance as their full-on health care provider.
Travel Insurance typically runs about 4-10% of the total cost of a trip, and this is where it gets tricky. Digital nomads seeking international health insurance aren't really on a trip, per say, so in many cases, they'll end up paying a different rate for each location visited.
One of the biggest concerns about travel insurance policies is that they want to know when you're leaving and when you're coming home. Plus, it costs a different amount of money to insure yourself for a trip to Bali as it does for a trip to Canada.
Additionally, while you may be able to get an emergency evacuation, a standard trip to the doctor or antibiotic may not be covered at all. Having only a travel insurance policy is certainly better than nothing. But if you can find a better option, like Integra Global or Cigna, it should be seriously considered.
What about adding travel insurance to my coverage back home?
Non-US citizens may have health care coverage built in through their citizenship, which can cover standard doctor visits and non-emergency situations. Typically, they'll be required to fly home for treatment.
Because the United States doesn't offer universal health care, each citizen is responsible for identifying and purchasing their own health care plan, provided they don't have one from their employer. We all know how ridiculously expensive that can be. And covering something that happens overseas? Good luck with that.
Adding travel insurance on top of an individual or universal health care plan may be a viable option if you're coverage back home is cheap and there isn't any fear of losing that coverage while being out of the country. You'll be covered for most any type of emergency, and can return home for treatment if necessary.
Most US citizens don't have that option unless they're paying out of pocket for coverage back home while abroad. Finding a policy that covers outside of the country is simply not an economical, or even possible, option for most Americans.
Does it make sense to adopt a 'pay-as-I-go' mentality?
There are a number of countries in the world (Thailand, Malaysia, Panama, Mexico) where it is possible to have great experience in hospitals and at doctor's offices just by walking in and paying for what you need.
Barring anything catastrophic happening, this is a viable option for those with money in the bank in case they get sick. In Mexico, for example, a typical doctor visit runs about USD$30-50.
This is particularly true for those traveling to a country with the intention of visiting a doctor. Dental visits, including things like teeth whitening and cavity treatment, are often much cheaper in places like Thailand, Indonesia, or The Philippines. For one-off treatments like that, paying out of pocket is a good option.
Still, I can't consciously tell people I think it is a good idea to globetrot without health insurance. If you should require a major surgery or treatment resulting from something like a car accident, adventure tour gone wrong, or severe food poisoning or illness an out-of-pocket bill is going to be expensive no matter which country it happens in. This is particularly true if follow-up visits are required.
What is the best international health insurance?
Many major American health care providers offer international health insurance. The biggest concern is that it is often not affordable, particularly for new nomads. Many companies will quote applicants in the ballpark of $3000 for a year of international coverage, and that may not even include any coverage within the United States or a deductible under $1000.
It's important to note that adding coverage in the US often significantly increases the policy. There are, however, two solid options that we've uncovered:
Cigna Global Insurance
Cigna Global was a pioneer in international health insurance for Americans. They have plans that include coverage within the USA as well as those that don't. Another plus is that they are a bit cheaper than many options.
Their website lists coverage options for residents of the US, UK, Australia, India, and Canada.
I am an American, and as a test, I applied for one year of coverage to Thailand (see screenshot below) and was quoted at just under $125 per month. That's with $0 out of pocket max. With a $2000 OOP max, the price dropped to $113. For nomads eliminating many traditional bills back home like car payments and inflated rent, that's pretty darn affordable.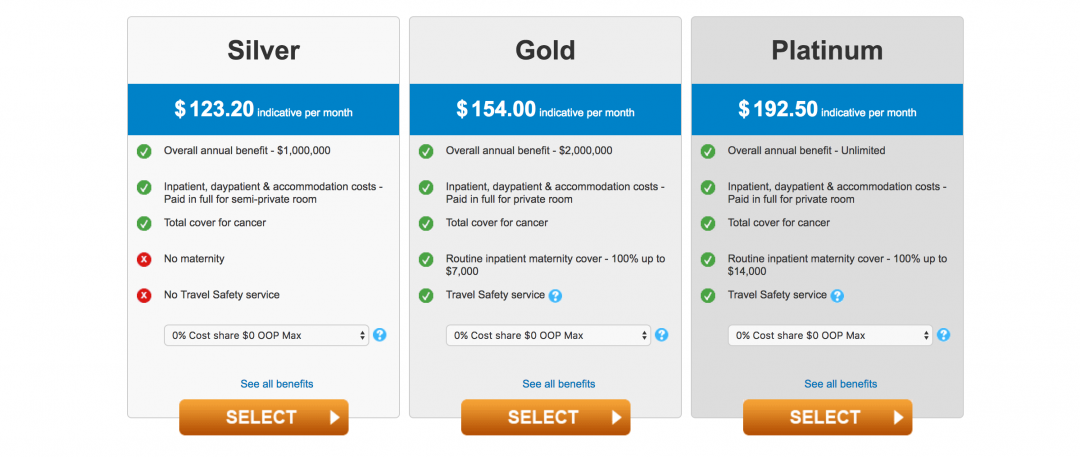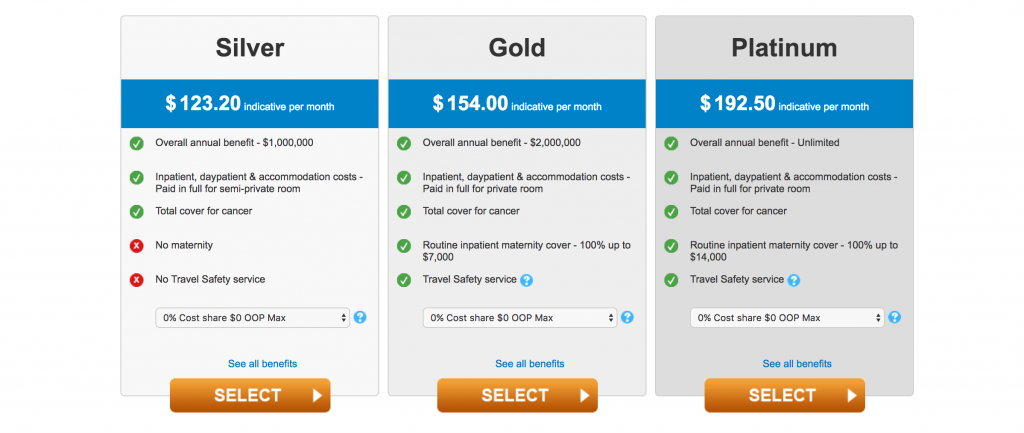 Integra Global
For some UK and American digital nomads, Integra Global is the most affordable international health insurance. The company is based in the UK but insures non-UK residents as well. They seem to be the best about covering citizens from most countries around the world.
I applied for a quote through Integra Global's website using the same criteria as before, aiming for their YourLife International Health Insurance Policy. I had to select a deductible this time, so I chose $1000. I chose the option that does not include coverage in the US and Canada. This plan came in at $393 quarterly or $131 per month. If I were to pay the entire year up front, the price drops to $119.
Let's note that the Cigna policy quoted at $123 was for $0 out of pocket instead of $1000 here.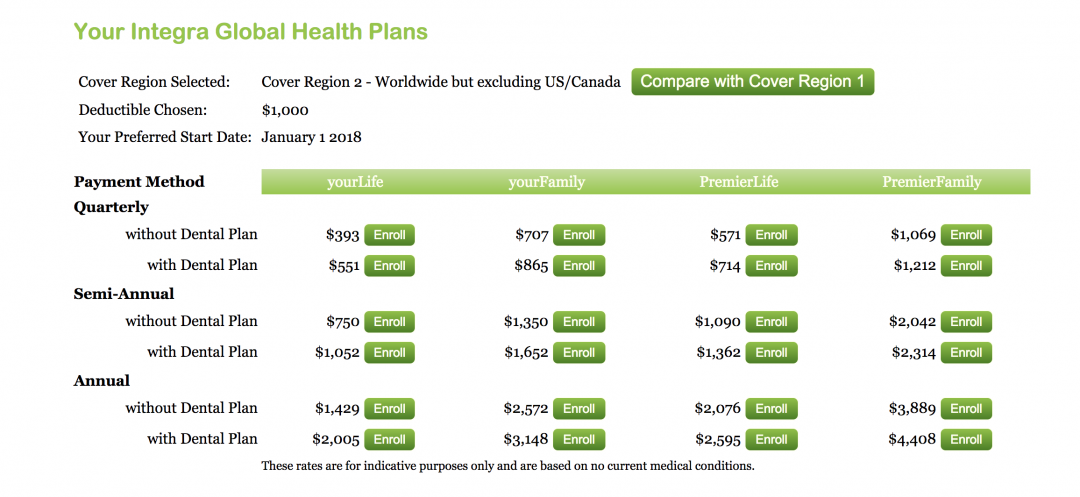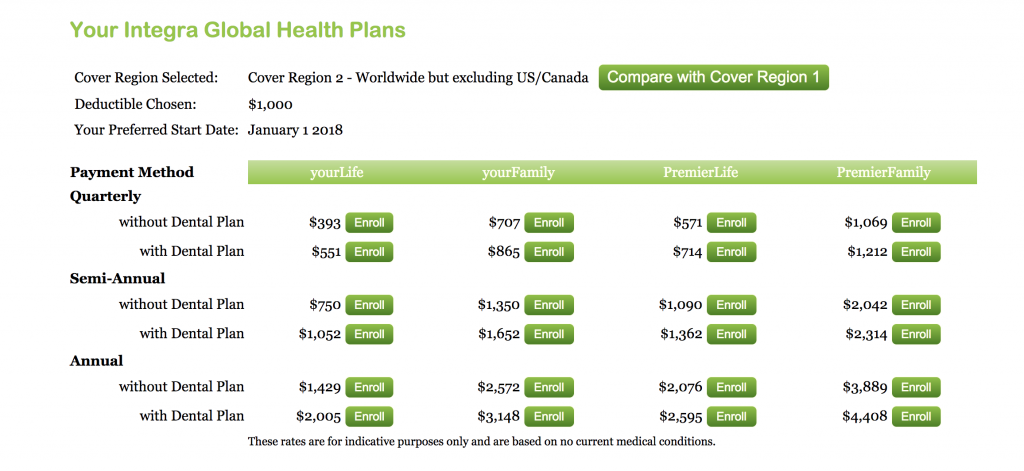 Here is the same plan with coverage in US/Canada: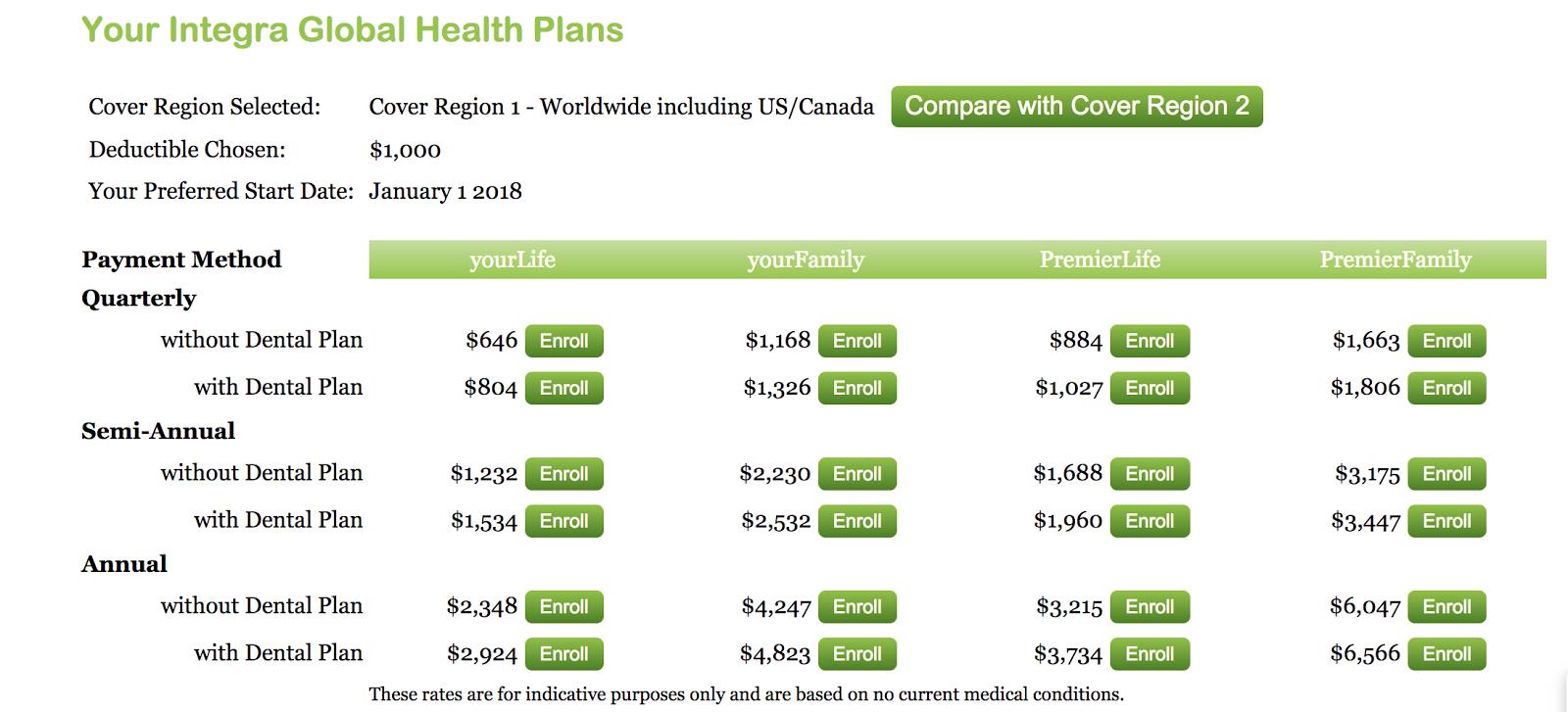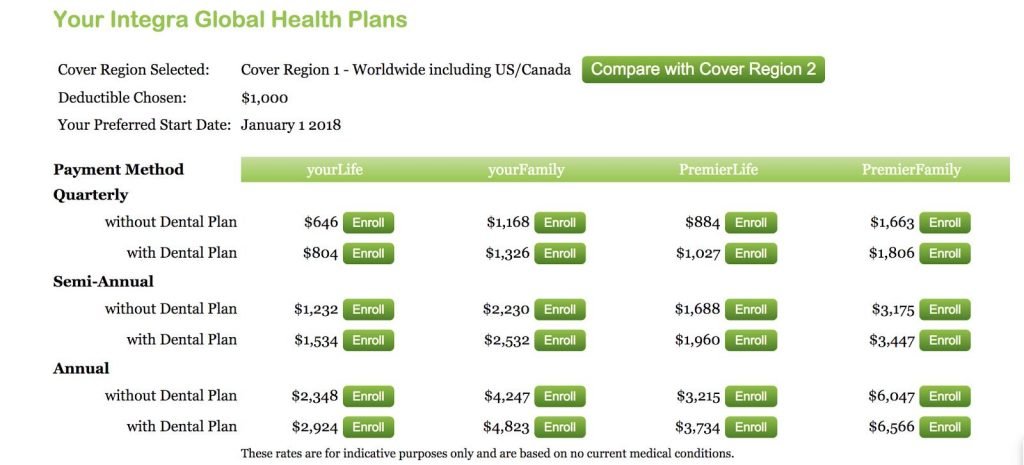 When getting quotes, I suggest playing around a bit with the deductible options. Also, be sure to double check that everything you need or want coverage for is included – don't forget to peruse the add-ons screen. If nothing else, it will make it blatantly obvious what isn't covered in your quote.
Frequently asked questions about what is covered and what isn't
What will be covered? What won't? Let's look at a few situations.
I got food poisoning and need to go to the hospital.

This is covered by both plans we've referenced here. Typical in-patient visits are covered, but keep in mind your out of pocket max or deductible.

I had a major catastrophic event and need to be airlifted.

Let's hope this doesn't happen, but better to be safe than sorry. The Cigna Global plan I mentioned above has an add-on option for evacuation to an area with top-notch medical care for $38.94 add-on per month. That does significantly raise the price, I'm now looking at about $160 per month but maintains the $0 OOP max.

I need to go to the dentist.

Dental coverage is typically not covered by international health insurance plans unless you purchase it as an add-on. However, depending on where you are in the world, it is often perfectly doable to pay for dental care out of pocket as you need it.

In Bali, for example, a dentist visit including treatment beyond a standard cleaning shouldn't run more than $40. The Cigna plan we've been using as a tester here charges $37.06 per month for dental, so unless you're planning to have extensive dental work done overseas or are going somewhere where dental care is very expensive (such as England), you're likely better off paying out of pocket.
International Health Insurance: The bottom line
I'd like to reiterate one thing here because I know the health insurance topic is a source of stress for many nomads including myself: fear of losing the health insurance received from an employer should not be the biggest deterrent in a decision to embrace long-term international travel.
It may take a few extra months of saving to cover an international health care plan. But the hurdle of health insurance is one that can be overcome with proper research and planning. I hope I've helped to give you a baseline to get started here. After all, it's worth it – the reward for completing the hurdle is travel and adventure!
Photo Credit:
Want to know how to work from anywhere?
Do you dream of being able to work from anywhere in the world, but aren't sure how? Sign up below and we'll send you our free guide, "Behind the Laptop: 7 Ways to Earn Money While Traveling the World." You'll also get our value-packed newsletter with more inspiration for making your dreams of location independence come true!